Efficienza energetica
by Tullio Facchinetti
---
L'efficienza energetica è un tema che è diventato sempre più importante nella società moderna, a causa dei costi economici, sociali e ambientali che sono associati a tecnologie e comportamenti poco attenti a questi aspetti.
Negli ultimi anni sono nate soluzioni e approcci che mirano ad ottimizzare i consumi energetici un po' in tutti gli ambiti: dalle abitazioni alle industrie, dai sistemi di calcolo ai trasporti. Questa attenzione è stata favorita dalla diffusione di tecnologie a costi abbordabili per il monitoraggio e il controllo dei sistemi energetici. Nel campo della distribuzione energetica, per esempio, si sono affermate soluzioni nel contesto della cosiddetta smart grid, incluse le tecnologie per la generazione distribuita e lo storage, e per la domotica.
L'efficienza energetica presso il Laboratorio di Robotica
Il Laboratorio di Robotica lavora da anni allo studio di tecniche e algoritmi per l'ottimizzazione di alcuni aspetti legati all'efficienza energetica, in particolare in campo residenziale ed industriale.
In questo contesto, una delle linee di ricerca di maggior successo degli ultimi anni è consistita nell'applicazione tecniche di scheduling real-time derivate dal mondo dei sistemi operativi per computer, al fine di coordinare l'accensione di carichi elettrici opportunamente modellizzati, in modo da minimizzare il picco di potenza richiesta e quindi limitare l'impatto della domanda energetica sulla rete e sulle infrastrutture di distribuzione, oltre a ridurre la necessità di svolgere costosi lavori di aggiornamento degli impianti esistenti al fine di adattarli alle crescenti richieste di potenza elettrica.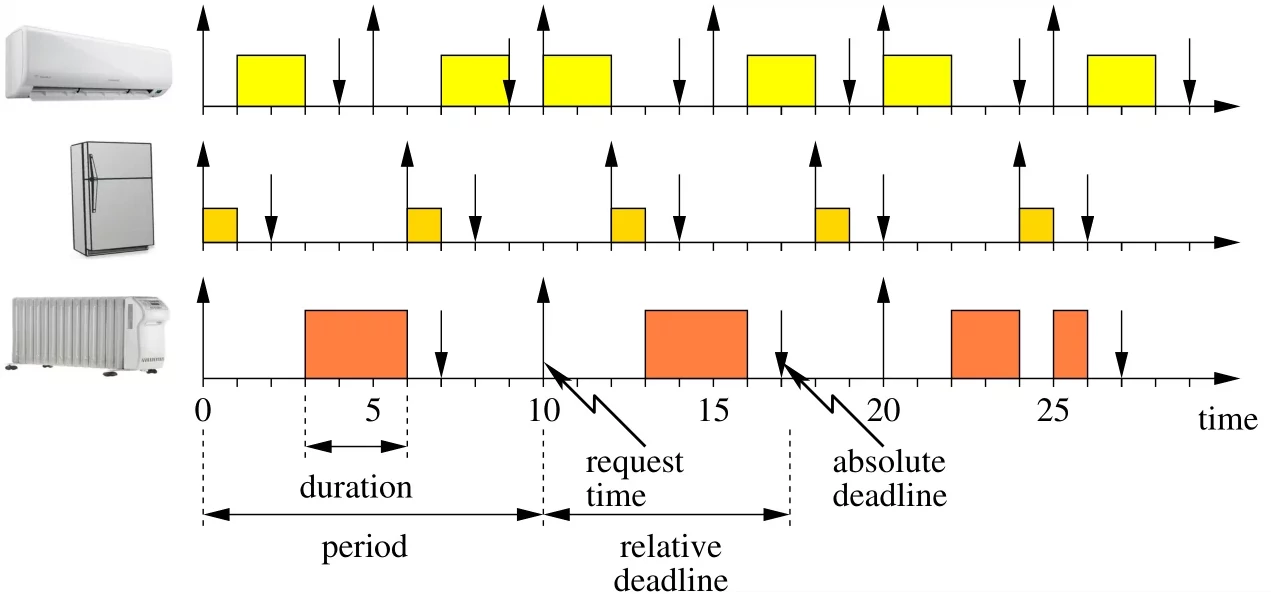 Tesi e attività di ricerca
Alcuni esempi di lavori effettuati nel campo dell'efficienza energetica, della domotica e del controllo attivo di carichi elettrici includono le seguenti tesi di laurea:
Client-server interface to the Energy2D heat propagation simulator
Framework for extended simulations of a building automation environment
Embedded system for monitoring power loads consumption
Sweetsleep: simulation of a real-time scheduling algorithm for eletrical loads
Monitoring and analysis of refrigerators
Peak shaving method using real-time scheduling for residential electric appliances
A solar following algorithm for a static solar follower
Pubblicazioni
Per quanto riguarda invece le pubblicazioni scientifiche, alcuni dei contributi più recenti sono i seguenti:
Guido Benetti, Davide Caprino, Marco L. Della Vedova, and Tullio Facchinetti, "Electric Load Management approaches for peak load reduction: a systematic literature review and state of the art", in Sustainable Cities and Society, Vol. 20, pp. 124-141, 2016.
Davide Caprino, Marco L. Della Vedova, and Tullio Facchinetti, "Peak shaving through real-time scheduling of household appliances", in Energy and Buildings, Vol. 75, No. 0, pp. 133.148, 2014.
Guido Benetti, Maurizio Delfanti, Tullio Facchinetti, Davide Falabretti, and Marco Merlo, "Real-Time Modeling and Control of Electric Vehicles Charging Processes", in IEEE Transactions on Smart Grid, Vol. 6, No. 3, pp. 1375-1385, May, 2015.
Altre risorse
Scopri le altre attività del Laboratorio di Robotica dalla pagina personale del Prof. Facchinetti (consigliata), oppure accedendo alla homepage del laboratorio (attualmente un po' meno aggiornata).